---
Dr. Dustin Calhoun is an Assistant Professor at the University of Cincinnati and is a physician at UC Medical Center and West Chester Hospital.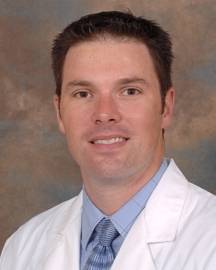 He holds medical board certifications in emergency medicine and EMS medicine. He attended medical school at the Medical College of Georgia, emergency medicine residency in Charlotte, NC and completed an EMS fellowship at UC, where he is now an Associate Director of the Division of EMS.
Currently, he is the Medical Director for the Cincinnati Fire Department and the Cincinnati / Northern Kentucky International Airport Fire Department and six suburban and rural fire departments, two police SWAT Teams, and a Paramedic Academy. He is also active as a flight physician with Air Care and Mobile Care.
In the realm of emergency management and preparedness, he is the Medical Director for Emergency Management and co-chair of the Emergency Management Committee at UCMC and the Emergency Department Trauma Liaison for West Chester Hospital.
Dustin's expertise was instrumental in the selection of the crucial lifesaving products in the Ptensys kitbags to address severe trauma: hemorrhage, airway compromise, pneumothorax and hypothermia.